Plot Summary
Edit
The show is about to begin when suddenly................some of the Muppet characters (except for Kermit, Fozzie and Gonzo) get turned into stone statues..............but luckily Jack, their second new guest star gets out his magic tricks kit and turns them back into their original selves again.
Songs and Sketches
Edit
I Want To Break Free (performed by Walter and Rizzo)
Swedish Chef Sketch: Bacon Spinach Quiche
Pigs In Space: The team turns invisible
Muppet News: Flying Maple Sausage Corn Dogs
UK Spot: Killer Queen (Beauregard, Annie Sue, Wanda, Wayne, Zoot and Rowlf)
At the Dance Sketch: Scooter sings stand by me at the fancy dance party
Muppet Labs Sketch: Slumbertronic 5000
Closing Musical #: Robin and Rowlf's Bohemian Rhapsody (performed by Robin the Frog and Rowlf the Dog)
Muppet Cast (speaking)
Edit
Kermit The Frog Miss Piggy Gonzo Fozzie Bear Walter Animal Scooter Pepe the King Prawn Dr. Teeth The Swedish Chef Rizzo the Rat Rowlf the Dog Beaker Wayne and Wanda Robin the Frog Marvin Suggs Statler and Waldorf Janice Mildred Huxtetter Johnny Fiama Bobo the Bear Angel Marie Floyd Pepper Zoot Chip Denise Sam the Eagle, Yolanda Rat Pops Annie Sue The Newsman
Background Muppets (non speaking)
Edit
Beauregard, Lew Zealand, Crazy Harry, Cynthia Rose, Beautiful Day Monster
Cold Opening
Edit
Guest Star's Dressing Room: Scooter knocks on Jack Black's dressing room door 5 times and tells him "14 2nds 'til curtain", and Jack says, "Thank you, Scooter." And he agrees to do the show with them.
The Muppet Show Theme Song: Gonzo plays Pop Goes the Weasel on his trumpet.
The Swedish Chef prepares to make Bacon Spinach Quiche, but it comes to life.
Pigs in Space Sketch # (Invisibility Machine): Dr. Strangepork invents an invisibility machine which causes the entire team to turn completely invisible.
Muppet News Flash Sketch #: The Newsman reports on flying maple sausage corn dogs.
At the Dance Sketch #: Scooter sings Stand by Me while dancing with Mona.
Muppet Labs Sketch #: Bunsen and Beaker demonstrate the Slumbertronic 5000
Closing Musical #: Robin, Rowlf and Johnny sing their own Bohemian Rhapsody version
Transcript
Edit
Episode 602: Jack Black transcript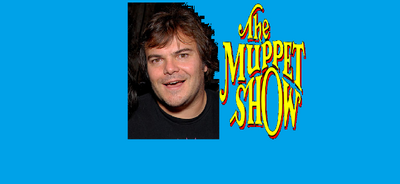 Community content is available under
CC-BY-SA
unless otherwise noted.